| Project Type : Personal Project
| Time : September 2017 - January 2018
| Role : Product Design/ Application UX/UI
| Skills : Illustration/ UX/ UI/ Research
| Tools : Sketch, Flinto, Adobe Illustrator
| Result : Production ready assets
Qualitative Data Matter
Bottomup is a mobile user-testing application that also provides a matching service for users and creators. Bringing forward a mindset that 'Designers Listen to Users', Bottomup makes the research process more accessible, accountable and approachable; not only to the young designers but to our users as well.
Problem
Traditional method of 1:1 user testing is costly, time consuming, lacks space, lacks motivation and difficult to recruit test users. Such barriers make the user testing process difficult to approach, especially for freelance/ student designers with limited budget/resources.
Target Users
Bottomup is essentially designed for users who didn't have chance to test their product because they didn't know much about user testing or the importance of it. It is also designed for student designers or individual designers who can't afford agency or other user testing services due to expensive cost.
Rebranding 'Research' Through Visual Design
I believe there's a significance in visual design because it can share a whole new perspective in the most intuitive way. Colours and meaningful symbols, illustration can change our traditional way of understanding 'research process'.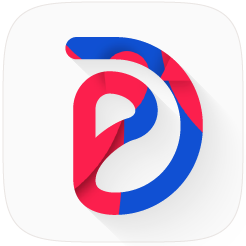 IOS7 ICON/ LOGO
Symbolizes 'Designer's Listening Ear' using B and U in Bottomup. Key findings from the research & interview process helped me define directions of the project and to add and drop features according to user needs.
High Fidelity Prototype Using Flinto
What Now? Lessons and Takeaways.
If this was a real product that I had potential to launch with time and resources, I would love to conduct a research with a working prototype. I would like to validate some of the initial assumptions I worked with, understand potential user behaviours around the product and the practicality of the project. Here are some assumptions I made:
Through P2P model where creators pays for the testers, there is enough value that the service can provide to the testers as much as the creators.
Users can actively engage and provide feedback unattended.
Unmoderated User Testing will not take over +-15 minute
and some questions/considerations I have:
Will the testers be comfortable using a voice input in a public space? during their spare time? Where/what will they prefer?
Is this a minimum viable product? What am I missing or what can I take out?
Is the current on-boarding experience enough? What am I missing?
How can I help creators write appropriate tasks/questions to the users, so they can receive valid insights?
The project was a stretch for me, both technical and perspective wise. I got to play around with interaction design with Flinto and I enjoyed executing my passion into a conceptual product.
Thank you for reading!